So, I decided to get ahead of the game and plan my V-teaching handout for next month. At least I know I'll be semi creative for one month out of the year! Oh, and it gave me an excuse to make a treat in the middle of the day as a "test" for next month!!
I'm going to be making all of these to hand out to the Ladies I visit teach, and also a little extra because, as you can tell, little hands like to sneak some for themselves!
This is so easy and yummy, it didn't last longer than an hour at my house yesterday! As soon as the hubby got home and saw it, he requested dinner ASAP so that he could eat the rest of the popcorn!
All you need is Homestyle Popcorn (the butter kind doesn't work)
white chocolate chips (can use almond bark, but i don't like the flavor as much)
Themed chocolate candies. I used Valentine's M&M's
Pop 2 bags of the popcorn and place in a LARGE bowl. It needs to be big enough to mix in. Then melt the white chocolate by warming 30-40 seconds at a time in the microwave, and stirring each time until melted.
Pour the chocolate over the popcorn and immediately mix until evenly coated. Toss in the candies and mix again.
Let the chocolate harden for about an hour. Place in a baggies, container, or in a bowl to serve. If you are giving them away, feel free to attach the following picture to the gift!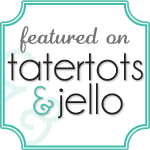 Linking up at:
I am a Play at Home Mommy to 2 amazing kids, and wife to my best friend. I am a proud Dr Pepper addict, and I love to craft, create, and bake in the kitchen with my sidekicks. I hope to share my passion with you and help you discover your inner creativity!
Latest posts by Vanessa Barker (see all)